Our Valuable Team Members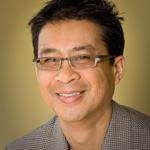 Born in Seattle and raised in southern California, Marvo started his career in the Los Angeles advertising market. He has developed a calm and casual style of creative direction that encourages his designers to think, explore and push their skills. His approach to strategic creative thinking is to continuously understand the client's marketing and communications problem before and throughout the project.
Marvo teaches graphic design at Gonzaga University as an adjunct instructor in the school of business. He is the General Manager of the Inland Northwest Business Alliance and Board Secretary on Friends of KSPS Public TV.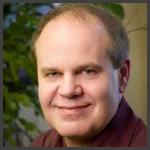 Paul Tiesse
Senior Account Manager and Media Buyer
Paul grew up in Spokane where he worked at his family grocery store from a young age. He attended Gonzaga Prep and graduated from Washington State University (WSU) with a BA in Business/Marketing. He also has over 20 years of real estate experience.
When not wearing his realtor's hat, he is our Media Buyer and Account Manager and adds local knowledge and Spokane history to Thinking Cap accounts. His dry yet witty personality makes for a unique and enjoyable client contact experience.
An avid sports fan, he follows both college and professional teams, so beware if you dare challenge him with a sports question–especially when it comes to WSU or Gonzaga team sports.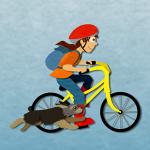 Karena Kliefoth
Graphic Designer/Illustrator
Karena is a talented animator, illustrator and graphic designer. She interned at Thinking Cap the summer of 2011, transitioned as our on-call subcontract designer and is now our primary staff graphic designer and illustrator.
Karena completed her AAS in Graphic Design from Spokane Falls Community College and prior to that acquired a BFA in Animation from the California Institute of the Arts and a BA in Studio Art from Smith College. She has won gold and silver Student Addys from the Spokane Ad Federation for her graphic design projects at SFCC. When not in the creative world of animation, illustration and graphic design, she and her boyfriend are active gamers and parents to ferrets.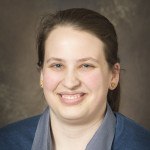 Sierra VanderHoogt
Office Manager
Sierra VanderHoogt served previously as the Administrative Assistant at EWU's Pride Center, and continues to build on that role as Office Manager at Thinking Cap. She is detail oriented and is learning the interesting aspects of advertising and marketing, and does a little bit of everything around the office. She schedules meetings, does social media posts, keeps track of memberships for the Washington State Psychological Association, organizes mailings, and assists members with any website-related or event-related questions they might have.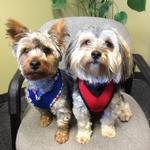 Gio and Harley are our agency mascots and greeters.
Gio, a Maltese/Yorkie mix (in red), is a Morkie for those who like to combine breed names. He always finds a way to become the center of attention during internal meetings and loves to hop onto your desk to check out what you are doing.
Harley (in blue) is a Yorkie/Poodle mix and has a more serious personality to offset Gio's outgoing and friendly ways. He has a lot to say if you are new to the office and will ask for your hall pass or passport. He will often be found next to the president, glued to his side.